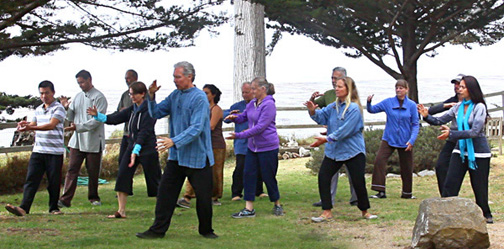 Throughout the 200-hour Integral Qigong and Tai Chi Teacher Certification Training, we will explore simple forms of Qigong, Integral Tai Chi including Tai Chi Easy™, Transmitting Qi and Qigong Healing with focus on priniciples and practicality.

Along with the Teacher Training Curriculum, the tone of these trainings is one of reverence, joy, introspection and community. We will create a deep experience with moving and sitting meditations, mindfulness, spiritual enrichment and we will refresh your well-being with daily Qi cultivation.

Bring your journal, your favorite inspirational texts and a sense of openness. You will gain practical experience in leading Qigong community practice in a group setting that is non-competitive and a lot of fun.

Please note: By the end of Level 2, you will have all of the Tai Chi Easy ™ program, including certification and encouragement to lead Tai Chi Easy™ Practice sessions. Tai Chi Easy™ is a special subset of the 200 hour Integral Qigong and Tai Chi Teacher/Instructor Training. It was originally developed for the trainees in our Teacher/Instructor Training program to assist in leveraging and launching their activity as a teaching professional. Tai Chi Easy™ is easy, accessible and fun — and it is more compelling, by magnitudes, to most people than conventional "Tai Chi Hard." Tai Chi Easy™ has evolved; it has become a nationally recognized, evidence based program that is used by a wide array of organizations including many social service agencies, health care systems, YMCAs and the Veteran's Administration. Begin now thinking about how you will more easily widen the net of your professional reach in the wellness, stress reduction, disease prevention and mind-body practice realm with Tai Chi Easy™.
From

To

Activity

7:00 am
8:00 am
Mandatory Morning Practice Session
8:00 am
9:00 am
Breakfast
9:00 am
11:45 am
Morning Training Session
11:45 am
12:30 pm
Practicum
12:30 pm
2:30 or 3:00 pm
Lunch/Afternoon Break
2:30 pm or 3:00 pm
5:00 pm
Afternoon Training Session
5:00 pm
5:45 pm
Practicum
6:00 pm
7:00 pm or 7:30 pm
Dinner
7:00 pm or 7:30 pm
9:00 pm or 9:30 pm
Evening Training Session
Arrival Day Schedule
4:00 pm
6:00 pm
Arrival, Check-In, and Unpack
6:00 pm
7:00 pm
Dinner Break
7:00 pm or 7:30 pm
9:00 pm or 9:30 pm
Evening Training Session
Departure Day Schedule
7:00 am
8:00 am
Mandatory Morning Practice Session
8:00 am
9:00 am
Breakfast
9:00 am
11:15 am
Morning Training Session
12:00 pm
1:00 pm
Check-out, short lunch, and departure