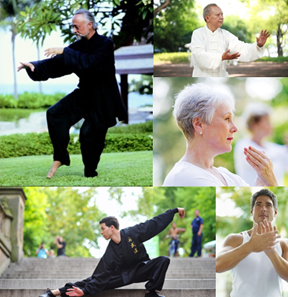 Options for Personal Empowerment
and Deepening Your Practice
Holistic Health &
Wellness Newsletter
Tai Chi & Qigong Way
Free Membership Site
Tai Chi & Qigong Way
Webinar Series
We would love to meet you at one (or more) of the Institute of Integral Qigong and Tai Chi (IIQTC)'s workshops or professional certification trainings offered throughout the year at some of the most spectacular locations around the world.
The IIQTC has designed two kinds of events to meet your training needs:

Public Workshop develop and deepen personal practice for self-care, stress mastery, and maximum well-being.

Certification Training are designed to train individuals professionally, to share and teach Mind-Body Practice.

Tai Chi and Qigong exercise can be a powerful booster for your health and well-being. Certification training graduates work internationally in diverse venues such as health care, fitness, spa, education, military, faith, business, social service. Most workshops and certification trainings are considered retreats as they are offered in beautiful, peaceful settings with the content naturally evoking inner reflection and stillness.
Consider organizing a workshop or training in your region or at your workplace. The moving meditations, Qigong (Chi Kung) and Taiji (Tai Chi), have endured the test of time. With so many events to choose from, we're sure there is something for everyone, and we look forward to seeing you soon
Last updated November 22, 2016

Public Workshops and Certification Trainings
2016
November 6 - 13
Certification Training: IIQTC Level 3 Advanced Integral Qi Cultivation Training La Casa de Maria, Santa Barbara, CA. For more info, email iiqtc@healthaction.net or phone 805-617-3390. Prerequisites: IIQTC Level 1 and Level 2 Trainings.
November 11 - 13
Certification Training: Tai Chi Easy™ Practice Leader Training River's Edge, Cleveland, OH. Led by IIQTC Trainers Antoinette Horn and Brian Trzaskos.  Phone 216-688-1111  ext. 251 Email info@riversedgecleveland.com

Download Flyer
November 18 - 20
Certification Training: Tai Chi Easy™ Practice Leader Training Samarpan Temple Hall, Philadelphia, PA. Led by IIQTC Trainer Antoinette Horn and assisted by Drs. Kalind and Kinnari Bakshi. Phone Kalind at 267-278-1054 or Benu at 856-364-5052 or Paula at 215-725-1995 for information on this event.

Download Flyer
2017
January - March
January 21 - 28
Public Workshop: The Healing Power of Qi Qigong & Tai Chi Practices for Life

Omega Costa Rica. Phone Registration 877-944-2002 (toll free in the U.S.) or 845-266-4444 (International). Email registration@eomega.org
February 17 - 19
Public Workshop: Medical Qigong – Preventative Medicine and Self-Healing Through Mind-Body Practices

Esalen Institute, Big Sur, CA. To register by phone, call 888-837-2536. CE for nurses and acupuncturists. If you experience any difficulties with your online registration, please contact webmaster@esalen.org
March 17 - 24
Certification Training: Level 1 Integral Qigong Practice Leader Training

Ancient Yoga Center, Austin, TX. For more info, phone 805-617-3390 or email iiqtc@healthaction.net
April - June
April 9 - 17
Public Workshop: Easter and Passover Symposium - Yoga and Sacred Healing

Sivananda Ashram Yoga Retreat Bahamas. Reservations (US and Canada only) 866-559-5167; Reservations & Inquiries (all countries) 416-479-0199. Email nassau@sivananda.org
April 21 - 27
Public Workshop: Medical Qigong: A Comprehensive AND Accessible 3 Level Work Shop and Training

Eastover Estate and Retreat. Lenox, MA. Phone 866-264-5139 or email events@eastover.com
May 26 - 29
Public Workshop: Super Qi Summit - Healing Ourselves, Healing Others

Omega Institute, Rhinebeck, NY. Registration 877-944-2002 (toll free in the U.S.) or 845-266-4444 (International). Email registration@eomega.org
June 11 - 16
Public Workshop: Inner Power Qigong: The 9 Phases of Qi Cultivation and Mastery

Esalen Institute, Big Sur, CA. To register by phone, call 888-837-2536. CE for nurses and acupuncturists. If you experience any difficulties with your online registration, please contact webmaster@esalen.org
June 23 - 30
Public Workshop: Eastover Medical Qigong and Eastern Medicine Symposium

Eastover Estate and Retreat. Lenox, MA. Phone 866-264-5139 or email events@eastover.com
June 25 - 30 Registration coming in 2017
Certification Training: Tai Chi Easy™ Practice Leader Certification Training

Omega Institute, Rhinebeck, NY. Phone 877-944-2002 or email registration@eomega.org Sponsored by The Healer Within Foundation
June 30 - July 2 - Registration coming in 2017
Public Workshop: The Transformative Healing Power of Qigong

Omega Institute, Rhinebeck, NY. Phone 877-944-2002 or email registration@eomega.org
July - September
Coming soon
October - December
November 12 - 19
Certification Training: Level 2 Integral Tai Chi Practice Leader Training

La Casa de Maria, Santa Barbara, CA.. For more info, phone 805-617-3390 or email iiqtc@healthaction.net