Mission Renewal Center, Santa Barbara, CA
July 14 - 21, 2011
Click Here for Secure Online Registration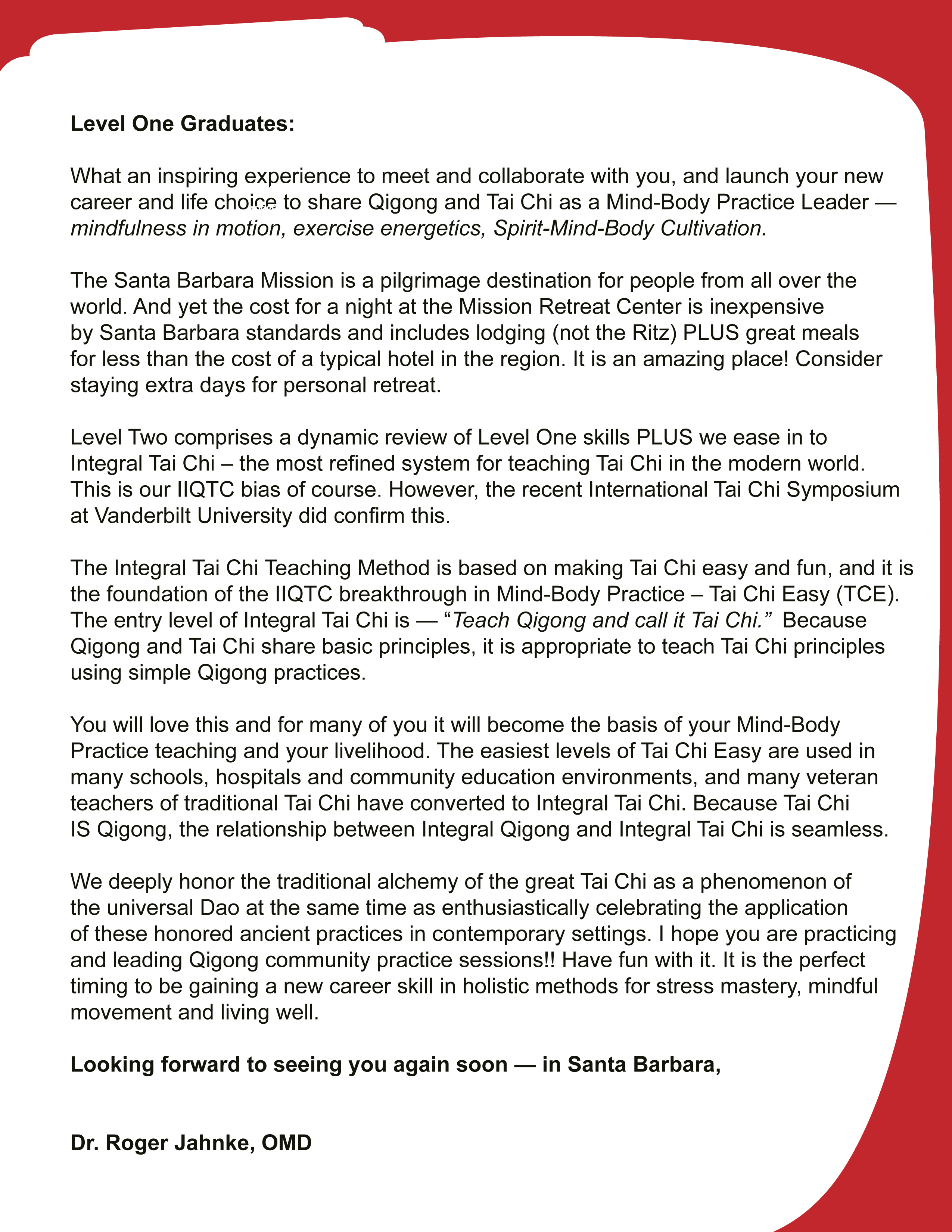 About the Level 2 Training Location -- Mission Renewal Center
The Santa Barbara Mission was established on the Feast of Saint Barbara, December 4, 1786 and was the tenth of twenty-one California Missions to be founded by the Spanish Franciscans.To read more about this historic treasure known as the "Queen of the Missions," visit here.

More than 200 years later, the Mission continues to be the chief cultural and historic landmark in the city of Santa Barbara. Home to a community of Franciscan friars, the Mission also has a retreat center with guest rooms, conference rooms on ten acres of beautifully landscaped gardens, where the IIQTC will be holding the Level 2 Integral Tai Chi Practice Leader Training
About Level 2 Integral Tai Chi Practice Leader Training
Tai Chi — the Supreme Ultimate — is equivalent to saying ultimate balance and harmony of the mutually supportive forces in the universe, and in the microcosm of the human system. As a form of Mind-Body Energetics practice Tai Chi (Taiji) is a kind of Qigong. Tai Chi was eventually woven into the combination of body and mind exercise for health enhancement and the purposeful development of consciousness (HeartMind cultivation).

There are many traditional long forms of Tai Chi that can take years to learn. In order to make the health benefits of Tai Chi more readily accessible to diverse populations, the IIQTC has created the Integral Tai Chi Teaching System. Health benefits include stress reduction, greater balance and increased flexibility for populations that are both younger and older. Tai Chi is especially profound for balance (falls prevention) and cognitive capacity retention (brain plasticity). Our II approach to Tai Chi is focused on balance and harmony of Spirit, Mind and Body. The great masters would call it Tai Chi Qigong.

Integral Tai Chi™ is not simply a Tai Chi form, it is a Tai Chi teaching method that is assured to sustain student enthusiasm. In the Integral Tai Chi™ framework we work with essential Tai Chi principles more than the form. Integral Tai Chi Qigong is a simplified approach (can be medical or therapeutic) in which the complexity of the footwork is postponed for ease of learning. Tai Chi Easy is composed of a smaller subset of Integral Tai Chi, plus the Qigong practices from The Healer Within. We will learn to teach Tai Chi Chair™ and Tai Chi Mirror™, these carefully simplified approaches to Tai Chi are designed to create the maximum positive effect.

The IIQTC has now been asked to bring Tai Chi Easy to numerous state funded social service agencies. It is clear that Tai Chi Easy is an especially well designed package for Qigong delivery. Upon conclusion of this training you are fully prepared to teach both Tai Chi Easy and Integral Tai Chi. They are an easy and fun way to get large class enrollments – people like the sound of Tai Chi and they love easy.

The traditional principles of Tai Chi and Qigong are the heart of the Integral Tai Chi ™ program. Level 2 is primarily focused on Tai Chi PLUS deepening review of all the material from Level 1. Review will include: practices distilled from the Vitality Medical Qigong Method (Bu Zheng Qigong) in The Healer Within; the Ten Phases of Cultivation and Mastery from the The Healing Promise of Qi; Tendon Changing; Marrow Bathing; Seven Precious Gestures; Spontaneous Qigong as well as introduction to Nei Dan (Inner Alchemy), transmitting Qi (Wai Gong) and Qigong Healing.

The Institute of Integral Qigong and Tai Chi (IIQTC) now has graduates throughout the US, Canada, Europe, Asia and Central America, inspired and committed to bringing Qigong and Tai Chi to a broader audience. Our research initiatives continue to build the Institute's international credibility. Whether you are using these trainings as a career shift or as a personal retreat to improve your health, vitality and inner peace, this event will be a profound opportunity to immerse yourself in healing and actualize your personal mission of community service. You will renew your body, mind and spirit just as intended by those ancient Qi masters of China who gave birth to Qi cultivation so long ago.

As you know it will be deep and it will be fun!!
Tuition, Lodging and Meals Fee Plan
Fees include:
Tuition for Institute of Integral Qigong and Tai Chi (IIQTC) Level 2 Integral Tai Chi Practice Leader Training, 7 nights lodging (unless Commuter), meals, and on site training materials. Commuter fees include Level 2 Certification Training tuition, food plan with 21 meals and on site training materials.
As a student of the IIQTC, you are part of a worldwide community. In addition, IIQTC graduates have access to a restricted website and an internet directory listing.
Fee does not include preparatory texts and videos, round trip airfare and ground transportation to and from Santa Barbara Mission Renewal Center.
Typical Daily Schedule
From

To

Activity

7:00 am
8:00 am
Mandatory Morning Practice Session
8:00 am
9:00 am
Breakfast
9:00 am
11:45 am
Morning Training Session
11:45 am
12:15 pm
Practicum
12:15 pm
2:30 or 3:00 pm
Lunch/Afternoon Break
2:30 or 3:00 pm
5:45 pm
Afternoon Training Session
5:45 pm
6:15 pm
Practicum
6:15 pm
7:30 pm
Dinner Break
7:30 pm
9:00 or 9:30 pm
Evening Training Session
Arrival Day Schedule, July 14, 2011
3:00 pm
5:00 pm
Check-in**
6:00 pm
7:00 pm
Dinner Break
7:00 or 7:30 pm
9:00 or 9:30 pm
First Training Session
Departure Day Schedule, July 21, 2011
7:00 am
8:00 am
Mandatory Morning Practice Session
8:00 am
9:00 am
Breakfast
9:00 am
11:30 am
Final Training Session
12:00 pm
1:00 pm
Lunch & Check Out 1:00 pm
Please notify the IIQTC office (by phone at 805-617-3390 or e-mail at HA@HealthAction.net) if your travel plans have you arriving or departing outside of the above guidelines. Note: Your certification is contingent upon your full completion of this training course which includes the Final Training Session the morning of July 21.
Registration for Level 2
** To REGISTER, click the lodging option below. To receive the Early Registration discount, enter the Special Code taichi in the Order Summary box on the Shopping Cart, and hit Apply.
Training & MRC Lodging Option
Click link below to register.

Early Registration
Through May 15, 2011

Use Promo Code taichi

Regular Registration
after May 15, 2011

$2150

$2375

$2450

$2750

Single Lodging with Private Bath ****SOLD OUT

$2725

$3100

$1925

$2125
**** Mission Renewal Center has 6 Single Lodging with Private Bath rooms available. These rooms have a shared shower, but private toilet and sink. There is a possibility for our group to acquire more depending on other groups sharing the facility. ****

Extra Nights -- Travel Convenience

We understand that travel to and from a training can be rigorous and not always convenient. For that reason, we have worked with the Mission Renewal Center to allow you the convenience of staying an extra night either before or after the training, or both. Given their commitment to other retreat groups, they cannot offer any more than this until we get closer to the training. You will receive an e-mail about this shortly after you register for the training.

So if you are interested in taking advantage of an extra night prior to the training (July 13th), an extra night following the training (July 21st), or both (July 13th and July 21st), look for the "Extra Night" options in the Shopping Cart while you are registering for the training. You can reserve and pay for them at the same time as registering for the training.

Please note, you do need to register for these extra nights in advance.

Payment Plan Options Available Through May 15, 2011

We recognize the flexibility that is sometimes needed in meeting the registration cost for certain events. To support this, we have made available a 3-Month Pay Plan and a 6-Month Pay Plan for a nominal finance and administration fee. To take advantage of one of the available payment plan options, simply register as usual. When you choose your preferred Lodging type, you will be taken to the Shopping Cart where you will see the payment plan options. Simply choose the one that works best for you and sign up!

Note: Your payments will be evenly dispersed over 3 months or 6 months depending on which plan you choose. The total of all your payments will equal the registration cost plus the applicable finance fee ($75.00 for 3-month plans, $180.00 for 6-month plans). Once you enter your credit card information and submit your order, your first payment will be charged immediately. Each subsequent payment will be automatically charged to your credit card in 30-day increments for the duration of your selected plan.

Note that these Payment Plan Options must expire May 15, 2011.
Cancellation and Refund Policy
A full refund of the amount paid, less a $125 processing fee, (and less the portion of the finance fee collected to date of cancellation for Payment Plan Enrollees), will be offered on or before 11:55 pm Pacific Time, Sunday May 15, 2011.
Due to required facility deposits, for cancellations made between May 16, 2011 – June 15, 2011, the refund is the registration fee less a $350.00 processing fee, (and less the portion of the finance fee collected to date of cancellation for Payment Plan Enrollees).
For cancellations after June 15, 2011, a partial credit of tuition ONLY will be offered on a case-by-case basis for extenuating circumstances such as serious illness, accident, death in the family, or family emergency.
No refund is available for cancellation if the registrant does not show up for the program, if the registrant leaves the program early, or if the registrant cancels his/her registration after June 15, 2011.
No refunds can be offered for lodging/meal plans under late cancellation circumstances. Tuition credit toward a comparable Institute of Integral Qigong and Tai Chi training must be claimed within 1 year of issue date or monies will be forfeited.
The Institute of Integral Qigong and Tai Chi (IIQTC) reserves the right to cancel any program, at any time. Should it be necessary for the IIQTC to cancel a program, registrants will receive a full refund if a satisfactory alternative is not possible.
Travel Directions to Mission Renewal Center (MRC)

The Mission Renewal Center is located at Old Mission Santa Barbara, approximately 90 miles north of Los Angeles and 90 miles south of San Luis Obispo. Entry for retreat guests is at the rear of the Mission property, at 2300 Garden Street.
By car:
Take US Highway 101 to the Mission Street exit. Go east (towards the mountains) to Santa Barbara Street and turn left. You will come to Pueblo Street. Turn right and go straight until it dead-ends at 2300 Garden Street. You will see a private driveway straight ahead. Enter the driveway and turn right at the Mission Renewal Center sign to the parking lot. The two rows on the left in the parking lot are reserved for Friars and staff.
By taxi:
The drop off address is 2300 Garden Street – across from Pueblo Street. All Mission buildings are on the right of the driveway. (Large private property is on the left of the driveway.) Follow the sign on the right for the Mission Renewal Center. Your driver may stop in the unloading area on the left before entering the parking area. (This is NOT the mailing address for the Old Mission or Mission Renewal Center. It is only used for retreat arrivals/departures.)
By train:
The Amtrak station in Santa Barbara is about 3 miles from the Old Mission and Mission Renewal Center. Taxis are available there.
By plane:
Santa Barbara Municipal Airport (SBA) is about 10 miles from the Mission Renewal Center.
Also, Santa Barbara Airbus has service from LAX (Los Angeles International Airport). To get schedule and fares, visit www.santabarbaraairbus.com

Roadrunner Shuttle has service from LAX and SBA to Mission Renewal Center. Contact Paul M. Pena, Operations Manager at phone 805-331-0413 or email paul@rrshuttle.com
LAX to Mission Renewal Center
Ride share: $92.00 per person and $10.00 each person on same reservation
Santa Barbara Municipal Airport to Mission Renewal Center
Ride share: $25.00 per person and $5.00 each person on same reservation

Do I need a car?
Santa Barbara can be a car-free city. This website will provide the information you need: http://www.santabarbaracarfree.org/
Metropolitan Transit District (MTD) is Santa Barbara's Public Transportation System. MTD's Line 22 provides public transportation to and from MRC to downtown Santa Barbara. Check schedule.