Tai Chi Easy Practice Leader Training
Mission Renewal Center, Santa Barbara, CA
April 10-15, 2011
"The regular practice of Tai Chi Easy provides significant health benefits for people of all ages. Tai Chi Easy helped me to recover rapidly from my own recent heart surgery." - James Firman, President & CEO, National Council on Aging, Washington, DC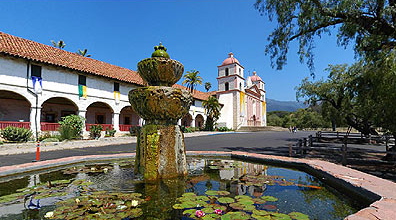 The Santa Barbara Mission was established on the Feast of Saint Barbara, December 4, 1786 and was the tenth of twenty-one California Missions to be founded by the Spanish Franciscans. Read more about this historic treasure known as the "Queen of the Missions."
More than 200 years later, the Mission continues to be the chief cultural and historic landmark in the city of Santa Barbara. Home to a community of Franciscan friars, the Mission also has a retreat center with guest rooms, conference rooms on ten acres of beautifully landscaped gardens, where the IIQTC will be holding the Tai Chi Easy™ Practice Leader Training.
Professional Training PLUS Retreat Schedule
In Amazing Santa Barbara
At the end of a rugged winter, wouldn't you jump at an opportunity to warm up in Santa Barbara, California? Join us for our 5 day Tai Chi Easy Practice Leader Training in a beautiful retreat setting on a retreat like schedule leaving time for you to relax and explore! Santa Barbara has something for everyone with pristine beaches, mountain trails with breathtaking views, museums, shopping, and world-class dining. For wine enthusiasts, Santa Barbara County is home to many world-renowned wines and winemakers; check out the tasting venues or take a wine country tour!

During this 25-hour professional training, you will learn Tai Chi Easy, how to lead Tai Chi Easy practice sessions AND have time to integrate the material AND get off campus to have some fun. If you have been hoping for the perfect opportunity to leverage your career AND have some fun in a beautiful environment, this is it!!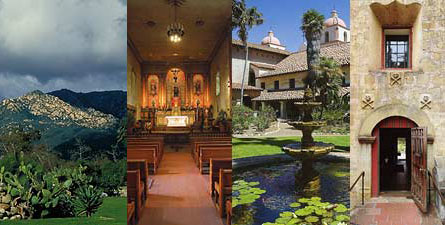 Here are Some of the Proven Benefits of Tai Chi Easy
Tai Chi Easy™ promotes health self-reliance and chronic disease self-managed care with a wide array of benefits, including:
Balance enhancement - falls prevention
Stress mastery
Pain management
Limiting drug use
Physical activity and meditation
Energy enhancement
Natural sleep improvement
Natural digestive and elimination support
Anxiety reduction
All categories of disease management
Institutional and corporate productivity enhancement and absence reduction
Recovery from addiction and PTSD
More; please review our websites and the research literature.
"The wellness practices of traditional Chinese medicine -- Tai Chi and Qigong -- are among the best forms of physical activity for diverse populations since they are low cost, group based, low impact and relatively easy to learn". - The Consensus Report of the National Expert Meeting on Qi Gong and Tai Chi, National Blueprint for Physical Activity and the University of Illinois Urbana Champaign
About the Tai Chi Easy Practice Leader Training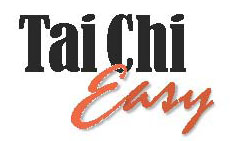 In Chinese, the phrase Tai Chi means the "balance and harmony" of natural forces within our world and ourselves. It also means "supreme ultimate," pointing to the awesome nature of all life and our own lives within the universe. Tai Chi, both moving meditation and martial art, is a widely practiced form of the ancient Chinese self-care practices known as Qigong. Qigong means to cultivate (gong) healing life energies and resources (Qi).

Tai Chi Easy is a mind-body practice that combines gentle exercise and meditation to activate self-healing properties that ancient Chinese texts call the "healer within" and the "elixir of life." Our Tai Chi Easy Practice Leader training is a step-by-step program detailing how to share simple Qigong and Tai Chi in our communities, schools, faith institutions, hospitals, community centers, and social service agencies. Participants learn to lead others in simple Qigong and Tai Chi practices that improve health, enhance longevity, and promote inner peace. Anyone interested in empowerment based health care can learn to share Tai Chi Easy with others.

The Institute of Integral Qigong and Tai Chi (IIQTC) has graduates throughout the US, Canada, Europe, Asia and Central America, inspired and committed to bringing Qigong and Tai Chi to a broader audience. Our research initiatives continue to build the Institute's international credibility. Whether you are using these trainings as a career shift or as a personal retreat to improve your health, vitality and inner peace, this event will be a profound opportunity to immerse yourself in healing and actualize your personal mission of community service. You will renew your body, mind and spirit just as intended by those ancient Qi masters of China who gave birth to Qi cultivation so long ago.

Participants complete the training with the skills to design and lead practice sessions in their home community. It's exciting and fun!! Consider sending a team to this training; group discounts may apply.

"Tai Chi Easy is perfect package of mind-body wellness skills for the health and social service agencies in my area. I am so enthusiastic to have solidified my Tai Chi and Qigong teaching skills at this level of simplified community practice." - Valerie L. Fagan, LCSW, Complementary Therapies Facilitator, Regional Medical Center, Athens, GA

Tuition, Lodging and Meals Fee Plan
Registration Fees Include:
Tuition for the Tai Chi Easy™ Practice Leader Training, 5 nights lodging (unless Commuter), 15 meals, and on-site training materials. Commuter fees include Tai Chi Easy Practice Leader Training tuition, 15 meals and on-site training materials.
Fee does not include preparatory texts and videos, round trip airfare and ground transportation to and from Santa Barbara Mission Renewal Center.
Please notify the IIQTC Office (by phone at 805-617-3390 or email at HA@healthaction.net) if your travel plans have you arriving or departing outside of the above guidelines. Note: Your certification is contingent upon your full completion of this training course, which includes the Final Training Session the morning of April 15, 2011.
Continuing Education Contact Hours
Available for Registered Nurses
15 Continuing Education Contact Hours Available for Registered Nurses. Fee is $35. For inquiries, contact the IIQTC Administrator at 805-617-3390.
Registration for Tai Chi Easy Practice Leader Training
**** MRC has only 6 Single Lodging with Private Bath rooms available. These rooms have a shared shower, but private toilet and sink. There are a limited number of these room types available and they are first come, first serve. So don't delay! ****
Extra Nights -- Travel Convenience
We understand that travel to and from training can be rigorous and not always convenient. For that reason, we have worked with the Mission Renewal Center to allow you the convenience of staying an extra night either before or after the training, or both. Given their commitment to other retreat groups, they cannot offer any more than this until we get closer to the training. You will receive an email about this shortly after you register for the training.

So if you are interested in taking advantage of an extra night prior to the training (April 9th), an extra night following the training (April 15th), or both (April 9th and April 15th), look for the "Extra Night" options in the Shopping Cart while you are registering for the training. You can reserve and pay for them at the same time as registering for the training.
Please note, you do need to register for these extra nights in advance.
Payment Plan Options
Through April 8, 2011
We recognize the flexibility that is sometimes needed in meeting the registration cost for certain events. To support this, we have made available a 3-Month Pay Plan and a 6-Month Pay Plan for a nominal finance and administration fee. To take advantage of one of the available payment plan options, simply register as usual. When you choose your preferred Lodging type, you will be taken to the Shopping Cart where you will see the payment plan options. Simply choose the one that works best for you and sign up!

Note: Your payments will be evenly dispersed over 3 months or 6 months depending on which plan you choose. The total of all your payments will equal the registration cost plus the applicable finance fee ($75.00 for 3-month plans, $180.00 for 6-month plans). Once you enter your credit card information and submit your order, your first payment will be charged immediately. Each subsequent payment will be automatically charged to your credit card in 30-day increments for the duration of your selected plan.
Note these Payment Plan Options expire April 8, 2011
.
Cancellation and Refund Policy
A full refund of the amount paid, less a $125 processing fee, (and less the portion of the finance fee collected to date of cancellation for Payment Plan Enrollees), will be offered on or before 11:55 pm Pacific Time, February 28, 2011.
Due to required facility deposits, for cancellations made between March 1, 2011 – March 20, 2011, the refund is the registration fee less a $350.00 processing fee, (and less the portion of the finance fee collected to date of cancellation for Payment Plan Enrollees).
For cancellations after March 20, 2011, a partial credit of tuition ONLY will be offered on a case-by-case basis for extenuating circumstances such as serious illness, accident, death in the family, or family emergency.
No refund is available for cancellation if the registrant does not show up for the program, if the registrant leaves the program early, or if the registrant cancels his/her registration after March 20, 2011.
No refunds can be offered for lodging/meal plans under late cancellation circumstances. Tuition credit toward a comparable Institute of Integral Qigong and Tai Chi training must be claimed within 1 year of issue date or monies will be forfeited.
The Institute of Integral Qigong and Tai Chi (IIQTC) reserves the right to cancel any program, at any time. Should it be necessary for the IIQTC to cancel a program, registrants will receive a full refund if a satisfactory alternative is not possible.
Frequently Asked Questions
In addition to the information you will find on our website, we've compiled some of the most frequently asked questions posed by prospective students -- and answered them! Follow the link below to see these Questions and Answers.
Click link to FAQ web page.
Travel Directions to Mission Renewal Center (MRC)

The Mission Renewal Center is located at Old Mission Santa Barbara, approximately 90 miles north of Los Angeles and 90 miles south of San Luis Obispo. Entry for retreat guests is at the rear of the Mission property, at 2300 Garden Street.
By car:
Take US Highway 101 to the Mission Street exit. Go east (towards the mountains) to Santa Barbara Street and turn left. You will come to Pueblo Street. Turn right and go straight until it dead-ends at 2300 Garden Street. You will see a private driveway straight ahead. Enter the driveway and turn right at the Mission Renewal Center sign to the parking lot. The two rows on the left in the parking lot are reserved for Friars and staff.
By taxi:
The drop off address is 2300 Garden Street – across from Pueblo Street. All Mission buildings are on the right of the driveway. (Large private property is on the left of the driveway.) Follow the sign on the right for the Mission Renewal Center. Your driver may stop in the unloading area on the left before entering the parking area. (This is NOT the mailing address for the Old Mission or Mission Renewal Center. It is only used for retreat arrivals/departures.)
By train:
The Amtrak station in Santa Barbara is about 3 miles from the Old Mission and Mission Renewal Center. Taxis are available there.
By plane:
Santa Barbara Municipal Airport (SBA) is about 10 miles from the Mission Renewal Center.
Also, Santa Barbara Airbus has service from LAX (Los Angeles International Airport). To get schedule and fares, visit www.santabarbaraairbus.com

Roadrunner Shuttle has service from LAX and SBA to Mission Renewal Center. Contact Paul M. Pena, Operations Manager at phone 805-331-0413 or email paul@rrshuttle.com
LAX to Mission Renewal Center
Ride share: $92.00 per person and $10.00 each person on same reservation
Santa Barbara Municipal Airport to Mission Renewal Center
Ride share: $25.00 per person and $5.00 each person on same reservation

Do I need a car?
Santa Barbara can be a car-free city. This website will provide the information you need: http://www.santabarbaracarfree.org/
Metropolitan Transit District (MTD) is Santa Barbara's Public Transportation System. MTD's Line 22 provides public transportation to and from MRC to downtown Santa Barbara. Check schedule.